The perspective governing the development philosophy we bring to bear on our projects is exceptionally simple. It involves reviewing the philosophy, structure, DNA, management policies, business concerns, customers, markets, development capabilities, products and distribution services of the company by whom we have been engaged through the lenses of design, communication, image and culture, then analyzing the problems and looking for potential solutions.
Encompassing a review of all company events, actions and concepts from the vantage point of information value, the transformation of its physical-qualitative existence into a semantic-qualitative existence and the introduction of symbolic output as a means of eliciting results, this development technique is a management resource that is wholly suited to our information-intensive society. Moreover, it is this that is the source of the numerous successes engendered by PAOS over the years.
While the work involved in this development process has become more complex and diverse, the basic structure underpinning all PAOS WORKS is consistently clear and unchanging.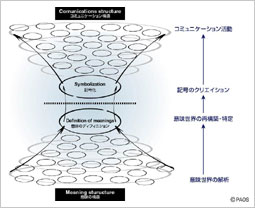 The basic structure of symbolic output moves from an appeal for meaning and understanding to an appeal to sense and sensitivity.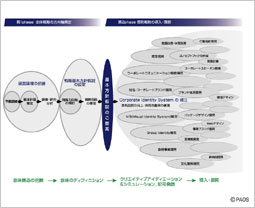 Work flow for the development of a hypothesis-focused CIS model.
CIS:Corporate Identity System