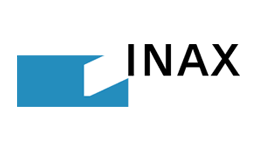 Place your cursor over the logo to reveal its former incarnation.
Trade name

Former trade name

: Ina Seito Co., Ltd.

Project start date

: 1983

Presentation date

: 1985

Co-creators

: Kunihiko HAYAKAWA, Team Zoo (Atelier ZO), Masanori UMEDA, Kenneth Grange, Ikuyo MITSUHASHI, Saiko SAKAMOTO, Fujiko OTA, Toshiyuki TANAKA, Hiroji YOSHIO, Yasuhiro NAGATA

Link

The CI strategy project put together by PAOS incorporated seven objectives, including a name change for Ina Seito to INAX, the development of a visual identity and cultural strategies, and was ultimately focused on the development of toilets and sanitary ware in what constituted a bold challenge to TOTO, the company that held an 80-percent share of the market at the time. Yielding a number of policies that demolished conventional wisdom (concepts), toilets were catapulted out of the shadows into the broad light of day and within ten years the Japanese market had trebled in size and a whole new market created. Overnight, this record of success enhanced the company's image, transforming it into a ground-breaking industry leader and pioneer of a cultural revolution in toilets, while the company went from being a humble local producer-manufacturer to a national and international developer-manufacturer. INAX was subsequently taught as a case study on IBM-sponsored courses at 400 American universities, thus evidencing the sophistication of Japanese-style CI strategy. The success of the project was a product of the far-sighted decisions of its then president: Mr. Teruzo INA.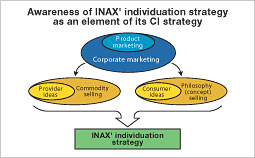 INAX' unique marketing management paradigm (framework) and corporate identity creation model.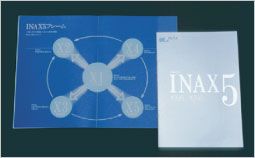 The existing mission statement and business principles were completely redefined and the "INAX 5" - a set of five principles objectifying the corporate vision created.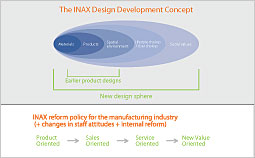 Devising development concepts for future designs and policy for corporate reform.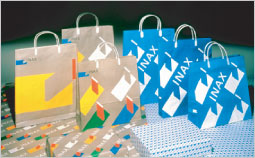 Deploying the VI on company packaging.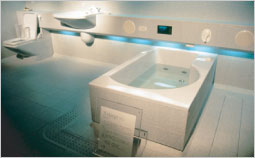 New products based on the new concept.
(Co-designer Kenneth Grange)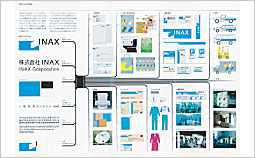 Depicting the visual world formed by the new INAX brand VIS tree.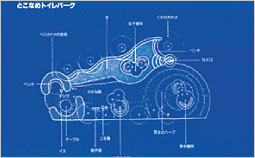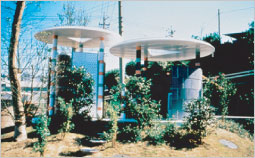 Plans for the Tokoname Toilet Park (left) that triggered the beautification of public toilets throughout Japan and the actual structures (right).