Place your cursor over the logo to reveal its former incarnation.
Trade name

Project start date

: 1977

Presentation date

: 1978

Co-creators

: Masayoshi NAKAJO, Kunihiko HAYAKAWA, Masanori UMEDA
---

Located in Japan's preeminent shopping district with a history spanning more than one hundred years and the largest selling space in the area, this prestigious department store had gone into tailspin: against all expectations, company sales were negative against the tide of national economic growth. Asked, "if nothing else to save the Ginza store", PAOS proposed that the company cultivate a sophisticated urban image and recommended measures aimed at revamping the company's management style and organizational structure. Our suggestions were endorsed by Mr. Kan YAMANAKA, a renowned manager and the troubleshooter charged with reviving Matsuya's fortunes, and within two years the company was able to resume payment of dividends. During the three years following the introduction of the CI program, Matsuya saw double-digit growth in month-on-month sales. The new Romanized MATSUYA GINZA logo breathed new life into the Ginza area and opened new windows of opportunity for the department store business. The Matsuya project goes down as a huge success in the annals of Japanese CI history.
A stroke of genius: the Matsuya alphabet gave the store its distinctive environment.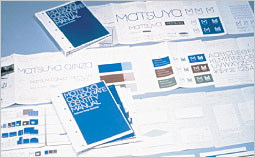 CI manual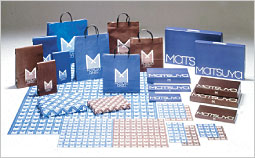 Store bags and wrapping paper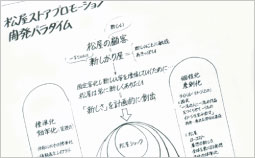 Store promotions to showcase a progressive downtown department store.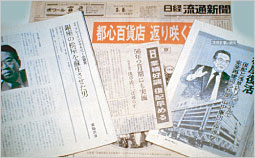 Magazine and newspaper articles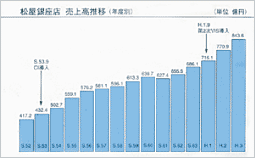 Sales transitions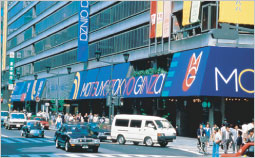 A bird's eye view of the storefront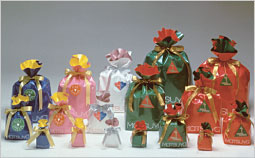 Distinctive packaging designed to showcase Matsuya gifts proved explosively popular and led to design plagiarism.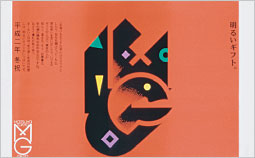 A New Year advertisement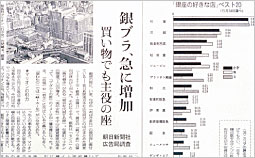 In a newspaper survey of the "most popular stores in Ginza", Matsuya emerged as the landslide victor.